Come aboard our award winning cruise
While we search for dolphins, manatee, birds
and other wildlife of the Indian River Lagoon.
4 tours a day, 7 days a week.
2 Hour Tours
10:00 am
01:00 pm
$35 for adults, $20 kids 2-12yrs, baby's free
1 Hour Tours
03:30 pm
05:00 pm - Sunset Tour
$25 for adults, $15 kids 2-12yrs, baby's free*
Reservation is required.
Please book online or call and let us take you on a cruise.
Prices include tax, exclude online booking fee. Please arrive at least 15 minutes prior to departure.
Come aboard our award winning cruise
And see the beauty of Vero Beach by water as we wind our way through mangroves and down along John's Island. Our captain will narrate along the tours, explaining about the wildlife and the beautiful Indian River Lagoon.
One Hour Tours
The one hour tour takes a shorter route and focusses mainly on finding wildlife such as Dolphins and Manatee. This tour is perfect for the younger kids.
Two Hour Tours
The Two hour tour takes you all the way up north into the John's Island area. Here you'll see Bird Island and cruise along the elegant mansions on the water. This longer tour offers a wider variety of wildlife sightings like Dolphins, Manatee and Birds.
Please keep in mind that this is a wildlife tour and therefore we can't guarantee the sightings of Dolphins, Manatee, Birds or other Wildlife.
The Indian River Lagoon is North America's most diverse estuary, with more than 2100 species of plants and 2200 animals. We cruise trough the hart of this Lagoon and search for dolphins, manatee, birds and other wildlife.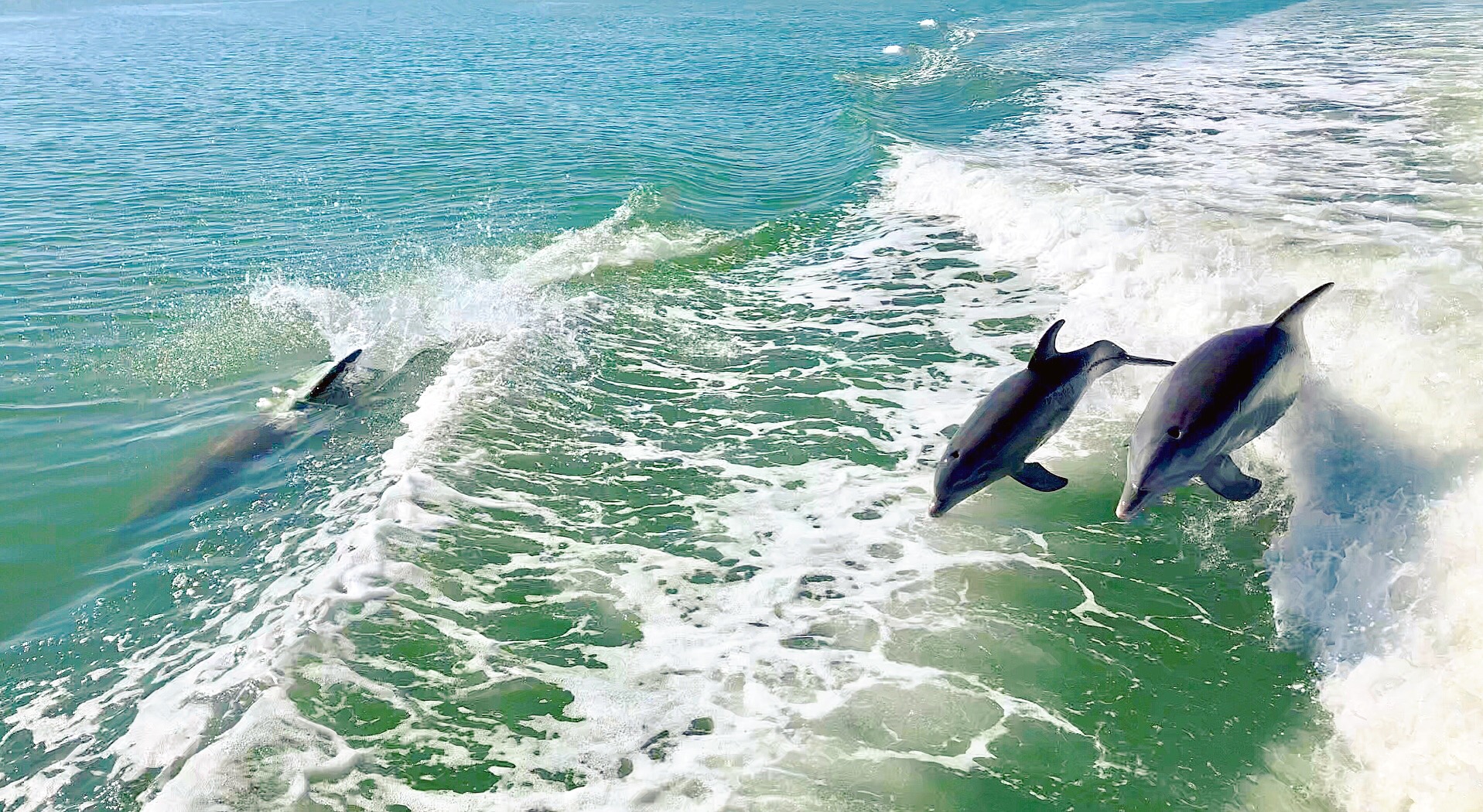 There's a good change you'll see the playful bottle nose dolphins as they surf the wake of the boat or forage for food in the Indian River.
And Manatee sightings are also frequent on the River Explorer boat tours. These gentle slow moving giants will often roll over and show their bellies as they cavort in the sun.
You'll encounter a variety of birds like the typical wading birds, with long legs and bills, that are a familiar sight to the lagoon. The Heron, Roseate Spoonbill, Egret and Ibis can be seen year round. The white pelican visits the treasure coast from November through April.
Our two hour tour takes you to Bird Island, one of the breeding islands for many of these birds.
Private Tours
The River Explorer Boat is a great location and unique attraction for any event.
We are famous for our holiday themed tours.
But whether you celebrate a birthday, anniversary, wedding, company party, family day or any other event, a party on our boat is guaranteed fun.
You may bring drinks, food and decorate the boat. Or let us organize the event for you.
The cost is $250.00 per hour (excl. food & drinks) with a minimum of 2 hours.
If you charter the boat, you may bring up to 24 guests.
Frequently Asked Questions
Q. What time do I need to arrive?
A. Please arrive at least 15 minutes prior to your departure time. This ensures an on time departure.
Q. What do I need to bring?
A. All you need to bring is yourself and guests. We do recommend that you bring a camera, if you have one, and wear sunglasses (polarized if you have them). You are more than welcome to bring snacks and beverages if you like.
Q. How long is the cruise?
A. We now have 2 cruises, a 1 hour cruise and a 2 hour. The cruise is approximately 1 or 2 hours. We always say approximately because sometimes we may be a few minutes late coming back to the dock.
Q. Do you have a restroom on board?
A. Yes. On a boat the restroom is referred to as the head, and our cruise boat is equipped with everything to keep our guests comfortable.
Q. What can we expect to see while cruising down the Indian River?
A. We see dolphin on almost every trip. We also look for manatees, birds, river otters, and whatever else we may happen to see. Every day is different, so we can't promise what you might see. It is wildlife and it changes every day.
Q. Where do we park?
A. You park at the Riverside Café in Vero Beach (3341 Bridge Plaza Dr, Vero Beach, FL 32963) and walk to the back of the restaurant where the docks are. We are the large pontoon with the blue roof at the end of the dock.
Q. Will we see alligators?
A. We don't typically see alligators because of the salinity of the water. It is primarily salt water and alligators prefer fresh water. We have seen them occasionally though, so there is a possibility. If you want to ensure seeing alligators, we recommend "Gator Bait Airboat Adventures" and we promise you will see alligators. Visit the website at Vero Beach Airboat Adventures for more information.
Q. What is your cancellation policy?
A. Customers will receive a full refund or credit with 24 hours notice of cancellation.
Customers will also receive a full refund or credit in case of operator cancellation due to weather or other unforeseen circumstances.
Our boat holds up to 24 people, a minimum of 6 participants is required for us to cruise. In the case of 5 or fewer participants, the customer and operator can reschedule or cancel with full refund.
Contact us at (772)-713-7132 to cancel or inquire about a cancellation.
No-shows will be charged the full price.
Q. Are dogs allowed?
A. Unfortunate we can't allow dogs on the boat as we do not know if other passengers are allergic. Our number one priority is keeping passengers safe and therefore can't take the risk. In case of a service dog, please give us a call before attending the tour, so we can call all the other passengers to inform them.
Contact
Questions and Reservation
Please call 772 713 7132
You can call us 7 days a week from 8am till 8pm.
Boat Rentals
Rather create your own adventure?
Rent a boat from our sister company Florida Boat Rentals!
Florida Boat Rentals provides you the opportunity to experience boating for a few hours, a day, or even a week.
With a fleet of pontoon boats and center-console fishing boats, spending the day on the Indian River has never been easier and more carefree.
Visit our website at FLBoatrentals.com or give us a call at 772.713.7132 for more information.